Become a Hackett Equipment Affiliate
Calling all Influencers and Firearms Instructors!
Start Earning 15% Commission Today
The type of influencer we are seeking to partner with has a genuine connection and trust with their audience. They have a c ommitment to quality, a love for firearms, and is interested in bringing real value to their dedicated followers.
The type of instructor we are seeking to partner with is well versed in the world of firearms and tactical procedures. There should be a genuine feeling of trust between the instructor and their students.
Hackett Equipment is only seeking to do business with affiliates that wish to provide real benefit to their audience.
Influencers and Instructors are invited to apply to become an affiliate at the following link: Affiliate Application Link
Applicants can expect to hear back within 3 days or less. We may follow up with additional questions.
Hackett Equipment reserves the right to refuse affiliate status to anyone for any reason.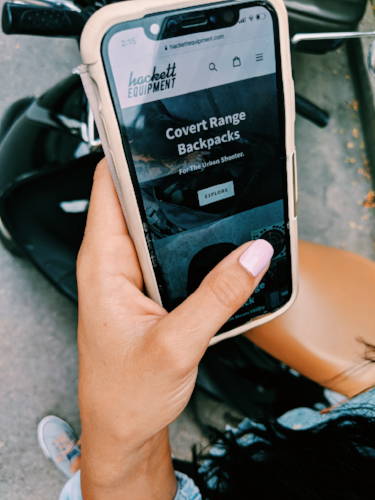 • Social Media

• YouTube Review

• Blog

• Podcast

• Radio

• Flyers

• Email List

• Mailing List
We expect affiliates to maintain the integrity of the Hackett Equipment brand and values while increasing awareness, driving sales, and leaving a personal touch.
Affiliates earn 15% commission on the total sale of any purchase made within 30 days of the user clicking their Affiliate Link.
Commission will be paid out at the end of each month via PayPal.
▼ 30% Discount for Affiliates
Affiliates enjoy 30% off all Hackett Equipment products. Your personal affiliate discount code will be distributed to you upon approval. It is expected that the affiliate be the only one using this code.
We love cross promoting our affiliates! Affiliates can expect social media shout outs, reposts, tags, engagement, and email mentions from Hackett Equipment. We are firm believers in helping those who help you.
▼ 10% Discount Affiliate Code
Affiliates can pass along a savings of 10% to their community via a Discount Code. Each affiliate is given an individual Affiliate Discount Code to pass along to their followers or students. When purchasing, consumers are asked to input this code upon check out.
Each affiliate is given an individual link. This link leads to the Hackett Equipment store and is how we track where each sale is coming from. This is how we know who to pay and how much. If a purchase is made within 30 days of clicking an affiliate's link, then that affiliate will be paid 15% commission.
Apply today and start earning
Start earning 15% commission with your personal Hackett Equipment affiliate code today!
Apply. Advertise. Earn.